Thoroughgood (later changed to Thurgood) Marshall was born on July 2, 1908, in Baltimore, Maryland. His parents were William Canfield Marshall, a country club steward, and Norma Marshall, an elementary school teacher. Thurgood's grandfather, Thorney Marshall, had been enslaved as a child, but escaped to Baltimore, where he later married and raised a family.
Thurgood Marshall obtained an undergraduate degree from Lincoln University in Oxford, Pennsylvania, and was determined to pursue a career in law. He did not attend the University of Maryland Law School in Baltimore because of a segregationist admissions policy. Instead, he attended law school at Howard University in Washington, D.C., and served as the valedictorian of his class.
After graduation, he returned to Baltimore, where he opened a law office and soon began working in tandem with the NAACP (National Association for the Advancement of Colored People). In Murray v. Pearson (1935), Marshall and the NAACP won a case against the University of Maryland for denying a law school applicant on the basis of race.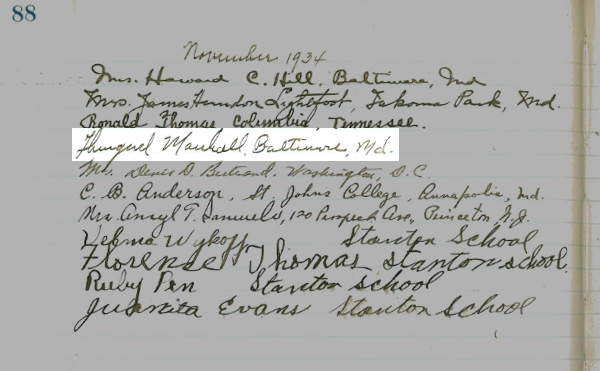 In 1936, Marshall joined the staff of the NAACP. Eventually, he served as the executive director of the NAACP Legal Defense and Education Fund.
In his most famous case, Marshall argued for the plaintiff before the U.S. Supreme Court in Brown v. Board of Education of Topeka (1954). The Court's decision in that case ended racial segregation in public schools and invalidated the "separate but equal" doctrine. 
Thurgood Marshall served for four years as a judge on the U.S. Court of Appeals for the Second Circuit. He served an additional two years as the U.S. Solicitor General, being the first African-American to serve in that capacity. 
Subsequently, President Lyndon B. Johnson appointed Marshall as an Associate Justice of the U.S. Supreme Court, with Marshall once again being the first African-American to hold the office. Justice Marshall would serve from October 2, 1967, until his retirement related to health issues on October 1, 1991.
Justice Marshall died on January 24, 1993, in Bethesda, Maryland. He is buried at Arlington National Cemetery in Arlington, Virginia. His personal papers are part of the collection of the Library of Congress. 
~~~
In 2019, the State Law Library was renamed as the Thurgood Marshall State Law Library in honor of Thurgood Marshall (Chapters 38 and 39, Laws of 2019). The Library's renaming ceremony was held on Thursday, October 17, 2019 in the Court of Appeals courtroom at the Robert C. Murphy Courts of Appeal Building in Annapolis, Maryland. Speakers included Hon. Mary Ellen Barbera, Chief Judge, Court of Appeals of Maryland; Hon. Douglas J. J. Peters, Maryland Senate; Hon. Ronald L. Watson, Maryland House of Delegates; Hon. Michele D. Hotten, Judge, Court of Appeals of Maryland; Steven Anderson, Director, Thurgood Marshall State Law Library; Prof. Larry Gibson, Morton & Sophia Macht Professor of Law, University of Maryland Francis King Carey School of Law; and Hon. Robert M. Bell, Chief Judge (ret.), Court of Appeals of Maryland. View photographs and a recording of the ceremony here.