Office of Communications and Public Affairs
2001-E/F Commerce Park Drive
Annapolis, Maryland 21401
410-260-1488
New Mobile App Improves Access to Justice
(ANNAPOLIS, Md. – December 9, 2015) The Maryland Judiciary today unveiled a new free mobile app designed to improve access to justice, to help the public better understand and navigate the court system, and to make legal information readily available on smartphones and tablets.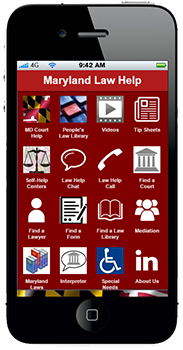 The Maryland Law Help app brings together the Judiciary's most popular online resources to help people find a lawyer or mediator, watch self-help videos on how to use the courts, find forms, learn about Maryland law, and call or chat remotely with an attorney at the Maryland Courts Self-Help Center, which is operated by Maryland Legal Aid under a contract with the Judiciary.
"The new mobile app brings court access into the digital age," said Maryland Court of Appeals Chief Judge Mary Ellen Barbera.  "With this innovation, we are improving access to justice by using technology to facilitate people meeting their legal needs."
The app is available for Apple and Android devices, including smartphones and tablets.  It can be downloaded from the App Store for Apple devices and Google Play for Android. Links to download the app are available online at https://mdcourts.gov/legalhelp/mobileapp.
"The development of this app is another effort that the Judiciary is undertaking to better inform citizens and to connect them to helpful information in a manner that many find effortless today.  This app includes the features and information that people seek out most often, and puts them together in one place, at  their fingertips," said State Court Administrator Pamela Harris.  "In many instances, if people have access to legal information and community-based programs, they can find solutions and resolve conflicts without court involvement," Harris added.
The Maryland Law Help app features include:
Access to the legal help pages maintained by the Maryland Judiciary with detailed information about which court handles a particular type of matter, available court resources, services, and forms for a wide range of legal topics.
Quick mobile access to the People's Law Library of Maryland, the state's legal information website.
Short self-help videos on topics designed to help those who do not have a lawyer.
One-page tip sheets that summarize the topics featured in the Judiciary's self-help videos.
Information about the courts' many self-help centers, including walk-in sites as well as phone and live-chat online services.
A direct link to call or connect via live chat with attorneys at the newly expanded Maryland Courts Self-Help Center.  Clicking the "chat button" will connect the user directly with an attorney at the Center for brief legal help on a broad range of civil (non-criminal) topics.
Court locations and directions.
A search function to find free or low-cost legal help using the People's Law Library Legal Services Directory.  This feature also provides access to information about the many local bar association referral programs that can be used to find a private lawyer.
A "form finder" interactive program that searches for court forms based on case type and other specifics within a comprehensive directory of forms in both English and Spanish.  (This feature finds forms; however, completing and printing the forms still requires access to a computer.)
Locations and directions to Maryland's many public law libraries.
Access to information about how to find a mediator, a consumer guide to mediation, and information about community mediation centers across the state.
Free access to Westlaw and Lexis versions of the Maryland Code and Maryland Rules.
Information about how to request an American Sign Language or foreign language interpreter for a court proceeding or program.  (This information currently is available in English and Spanish.)
Information for court users on how to request a special needs accommodation.
For more information about the new Maryland Law Help mobile app, contact Pamela Ortiz, Director of the Maryland Judiciary Access to Justice Department, by phone at 410-260-1258, or by email at pamela.ortiz@mdcourts.gov.
# # #