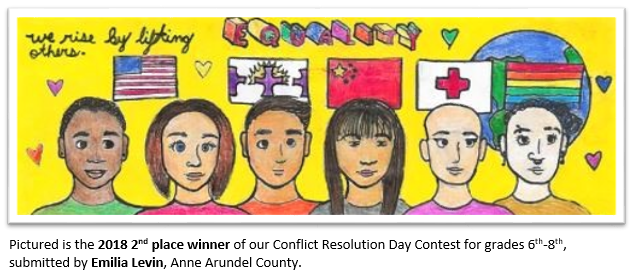 Did you know that each fall, the Maryland Judiciary's Mediation and Conflict Resolution Office (MACRO) observes Conflict Resolution Day, the third Thursday in October, by hosting a Bookmark Design contest for Maryland students in grades K-8? The contest provides teachers, parents, and students the opportunity to learn about and share important conflict resolution skills, such as: listening; working together to solve problems; talking to each other instead of fighting; being an ally to other students; and appreciating the differences in all of us. In addition, students have an opportunity to use their artistic skills to illustrate their own creative ideas.
The contest includes three participation groups: K-2nd grade, 3rd-5th grade, and 6th-8th grade. Entries are judged on both artistic merit and their conflict resolution or prevention message. The contest has grown significantly since it began in 2005 with fewer than 40 entries. MACRO now receives an average of 2,000 entries per year from all across Maryland.
Interested in participating?
MACRO is always interested in encouraging new schools or families to participate. If you would like to learn more about this year's contest and how to enter, click here.
Printed bookmarks are available to schools and libraries throughout the state. If you would like copies to hand out, please contact us at macro@mdcourts.gov or call 410-260-3540.
To see images of past winners, visit: http://www.mdcourts.gov/macro/eventsconflictresolutiondayarchive.html