In response to COVID-19 and in an effort to allow for more student participation, the Maryland Judiciary is giving students the opportunity to submit entries both through the mail and online. The contest is hosted each year by the Maryland Judiciary's Mediation and Conflict Resolution Office (MACRO) and is open to Maryland students in kindergarten through eighth grade. The contest allows for teachers, parents, and students to discuss ways to resolve conflicts peacefully by using listening skills, being inclusive, working together, talking things out, and respecting differences.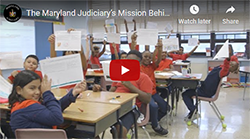 The contest includes three participation groups: K-2nd grade, 3rd-5th grade, and 6th-8th grade. Entries are judged on both artistic merit and their conflict resolution or prevention message. Student originality is welcomed. Over the past 15 years, the contest has continued to grow with more than 2,500 pieces of student art summitted last year..
MACRO welcomes new schools or families to participate regardless if your child is learning in-person or virtually during COVID-19. If you would like to learn more about this year's contest and how to enter, click here.
A limited number of printed bookmarks are available to schools and libraries throughout the state. If you would like copies, please contact us at macro@mdcourts.gov or call 410-260-3540.
Click here to see images of past winners.