Office of Communications and Public Affairs
2001-E/F Commerce Park Drive
Annapolis, Maryland 21401
410-260-1488
For Immediate Release
Judge Julie R. Stevenson Solt Named Administrative Judge for
Frederick County Circuit Court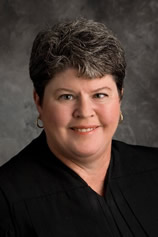 (ANNAPOLIS, Md. – January 29, 2016) Circuit Judge Julie R. Stevenson Solt has been named administrative judge of the Circuit Court for Frederick County effective March 1, 2016.  Judge Solt succeeds Judge G. Edward Dwyer, Jr., who is retiring after nearly 31 years of service on the bench.
"Judge Solt is highly qualified to take on the leadership role of administrative judge of the court.  She has provided more than 18 years of exceptional service to the citizens of Frederick County since her appointment to the Circuit Court, consistently demonstrating strong leadership skills.  I look forward to working with her in this new role," said Maryland Court of Appeals Chief Judge Mary Ellen Barbera.  "I want to offer my sincere thanks to Judge Dwyer for his dedicated service to the people of Frederick County and for his effective and efficient management of the court as administrative judge for the past 25 years."
As administrative judge, Judge Solt will oversee the administration of the Frederick County Circuit Court, its budget and procurement functions, and trial calendars to ensure the effective and expeditious resolution of cases.
Judge Dwyer has served as administrative judge since 1991. His retirement is effective March 1, 2016.  He was appointed to the Circuit Court for Frederick County in May 1985 and named county administrative judge six years later.  "It has been an honor and a pleasure serving the citizens of Frederick County for more than 30 years, and I have truly enjoyed working with people I respect on the Frederick bench," Judge Dwyer said.  "I have had the privilege of working with Judge Solt for more than 18 years, and I know that she is more than qualified to serve as Frederick County's next administrative judge."
"I am honored to be chosen by Chief Judge Barbera for this appointment and I welcome the opportunity to serve our Frederick community in this new capacity," said Judge Solt.  "Judge Dwyer has done a remarkable job as administrative judge of this court.  I commend him for the leadership he has provided during his exemplary judicial career."
Judge Solt, who was born in Bethesda, Md., attended Mount Saint Mary's College, graduating summa cum laude.  In 1983, she graduated cum laude and received her Juris Doctorate with honors from the University of Maryland School of Law, now known as the Francis King Carey School of Law.  She was admitted to the Maryland bar the same year.
Before her appointment to the Frederick County Circuit Court in December 1998, Judge Solt served as Frederick County's Chief Assistant State's Attorney, Child Support and Juvenile Division, from 1990 to 1992, and Deputy State's Attorney for Frederick County from 1992 to 1998, after six years of private practice from 1983 to 1989. 
She has served as presiding judge of the Frederick County Adult Drug Court Program since 2004 and as designated judge for the Advanced Science and Technology Adjudication Resource Center (ASTAR) Program since 2005.  Judge Solt has served on several Judiciary committees and is vice-chair of the Judicial Ethics Committee.  She was a member of the Governor's Heroin and Opioid Task Force in 2015.
# # #