Government Relations and Public Affairs
580 Taylor Avenue
Annapolis, Maryland 21401
410-260-1488
Suzanne C. Johnson named clerk of the Maryland Court of Appeals
ANNAPOLIS, Md. – Suzanne C. Johnson has been named clerk of the court by the Maryland Court of Appeals.  Johnson will be sworn in by the governor on December 13, 2018.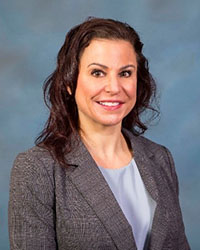 Johnson has served as chief deputy clerk of the Court of Appeals since Oct. 11, 2017, and as acting clerk of the Court of Appeals since Oct. 1, 2018, upon the retirement of Bessie Decker, who worked for the Maryland Judiciary for more than 35 years, including more than 10 years as clerk of the court.
As head of the Clerk's Office for the state's highest appellate court, Johnson manages the state reporter, staff, operations, and business processes, and oversees the court docket, including maintaining the official court record. In addition, the Clerk's Office maintains the attorney grievance and judicial disabilities dockets.
"Ms. Johnson brings a wealth of experience in the appellate courts to the role of clerk of court," said Chief Judge Mary Ellen Barbera. "Her appellate legal expertise, education, background, and work ethic make her an outstanding choice to serve as clerk of the Court of Appeals."
Prior to joining the Clerk's Office, Johnson served as senior law clerk for Court of Special Appeals Judge Kathryn Grill Graeff from 2012-2017, for whom she reviewed and analyzed appellate court briefs and trial court records, researched complex civil and criminal legal issues, and prepared draft appellate opinions. Johnson also worked as senior law clerk for Court of Special Appeals Judge James R. Eyler from 2006-2012, after being promoted from serving as law clerk from 2004-2005.
Johnson earned a Bachelor of Arts in jurisprudence in 2001 from the University of Baltimore, where she graduated cum laude. She earned her Juris Doctor from the University of Baltimore School of Law in 2004, graduating magna cum laude. She served as a staff member on the University of Baltimore Law Review, and she was also a member of the Heuisler Honor Society. In 2017, Johnson earned a Master of Library and Information Science from the University of Maryland, focusing her studies on self-represented litigants and access to justice. During her studies, Johnson completed an internship in the law library of the Supreme Court of the United States. "I am honored to be selected as the clerk of the court, and I hope to build on Bessie Decker's legacy of excellence. I am grateful for the opportunity to serve the people of Maryland in this capacity," Johnson said.
# # #