Government Relations and Public Affairs
580 Taylor Avenue
Annapolis, Maryland 21401
410-260-1488
Chief Judge Mary Ellen Barbera honored by Maryland Senate as a
"First Citizen"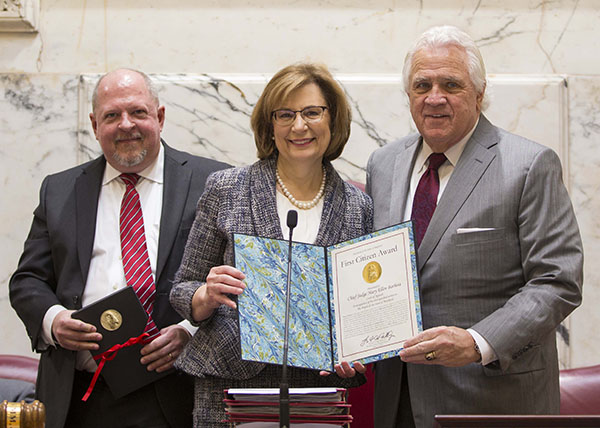 "I will take this award back and share it with all the good people I work with … "

ANNAPOLIS, Md. – Maryland Court of Appeals Chief Judge Mary Ellen Barbera received the Maryland Senate's prestigious First Citizen's Award on Wednesday, March 14. The award recognizes Marylanders who are "dedicated and effective participants in the process of making government work for the benefit of all."
"I am deeply moved by this," Chief Judge Barbera said after being presented with the award by Senate President Thomas V. "Mike" Miller, Jr. "To be singled out among those whom I am so proud to lead – our Maryland Judiciary – is humbling, indeed."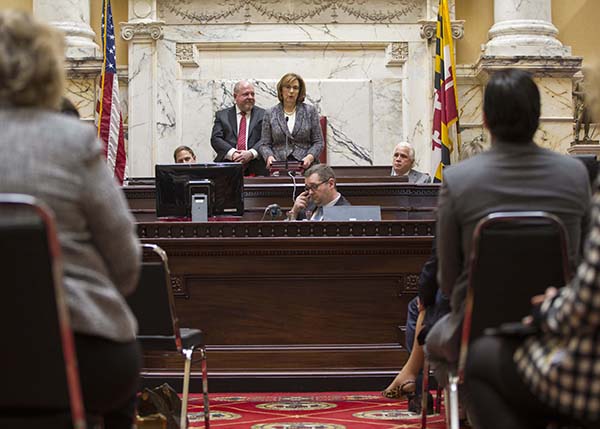 Thanking President Miller and the members of the Senate, Chief Judge Barbera stressed the award honors the efforts of everyone who works in Maryland's courts.
"It is not about us as individuals," she said. "I will take this award back and share it with all the good people I work with – more than 300 judges and the 4,000 people who participate in the running of our Judiciary. I could not do what I do without them. So this is for them."
As the leader of Maryland's judicial branch, Chief Judge Barbera said, "I will continue to work to make sure the doors of justice are open wide to every man, woman, and child in the State of Maryland and do my level best to advance the cause of justice."
Timothy D. Baker, State Archivist, who presented the award on behalf of the Senate, noted that Chief Judge Barbera began her career in public service as a Baltimore city public school teacher who attended law school at night. "Her unique background and perspective have helped provide insight into the needs of underserved communities and individuals," Baker said.
"Chief Judge Barbera is a brilliant jurist, a teacher, and a leader who strives to better all of us in public service," President Miller said. "Just as Charles Carroll of Carrollton advocated for in his First Citizen letters, Chief Judge Barbera is the embodiment of a government that benefits all its citizens, and is a true fit to be called a First Citizen."
After graduating from the University of Maryland School of Law, Chief Judge Barbera joined the Office of the Attorney General of Maryland in 1985 as an Assistant Attorney General in the Criminal Appeals Division and became Deputy Chief of the Division in 1989. In January 1998, she joined Governor Parris N. Glendening's Office of Legal Counsel and Regulatory Affairs, serving as Deputy Legal Counsel until her promotion to Chief Legal Counsel in June 1999.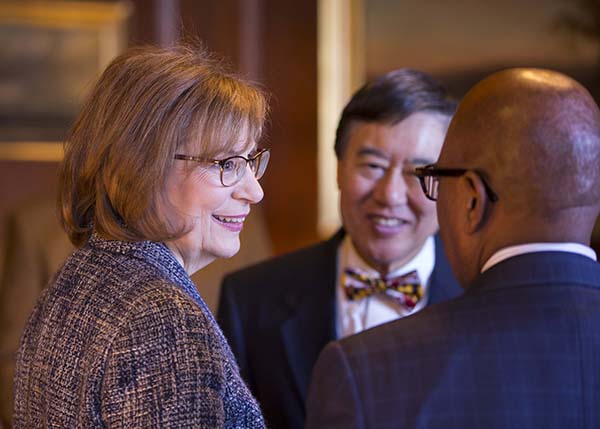 In January 2002, she was appointed an Associate Judge of the Court of Special Appeals, a position she held until September 2008, when she was appointed to the Court of Appeals. In July 2013, she was appointed Chief Judge of the Court of Appeals by Governor O'Malley, becoming the first woman in the more than 300-year history of the court to hold the position of Chief Judge.
This is the first time in more than two decades that the First Citizen Award has been given to a member of the Maryland Judiciary. In 1996, it was presented to Robert C. Murphy and Robert F. Sweeney. Judge Murphy was Chief Judge of the Maryland Court of Special Appeals from 1967 to 1972 and Chief Judge of the Maryland Court of Appeals from 1972 to 1996. Judge Sweeney was the first Chief Judge of the District Court of Maryland, serving from 1971 to 1997.
The First Citizen Award is named for Charles Carroll of Carrollton, who wrote a series of influential letters in 1773, three years before the start of the American Revolution, under the name "First Citizen." In the letters, Carroll argued that government must work for the benefit of all and called for a radical restructuring of government based on the advice and consent of the people. Carroll was a signer of the Declaration of Independence, helped shape Maryland's first Constitution, and served in the State Senate, Continental Congress, and U.S. Senate.
# # #
(March 26, 2018)
More Photos