Government Relations and Public Affairs
580 Taylor Avenue
Annapolis, Maryland 21401
410-260-1488
Third annual "Courting Art Baltimore" contest awards scholarships to city students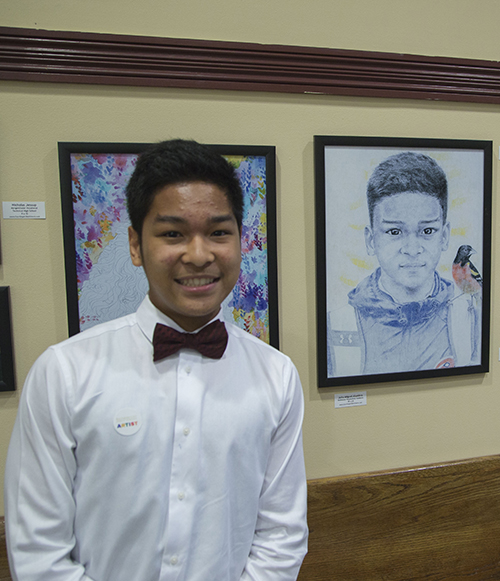 "In a courthouse, art may serve to calm, soothe, or inspire."

"Courting Art Baltimore" awarded college scholarships totaling $20,000 to five Baltimore City public school students in recognition of their outstanding artwork at an awards reception for finalists at the Eastside District Court Building on May 16.
Julio Miguel Alumbro of Baltimore Polytechnic Institute took home the top prize, including a $7,500 scholarship and one of two full-tuition scholarships to the Maryland Institute College of Art Summer Pre-College program.
Reproductions of the winning artwork will be on long-term display near the Eastside District courthouse front entrance, with finalists from the contest's first two years on display elsewhere in the courthouse. In addition to scholarships, Courting Art Baltimore awarded $1,300 in art supply gift cards to students who took part in this year's contest and gift cards to the art teachers from each of the schools.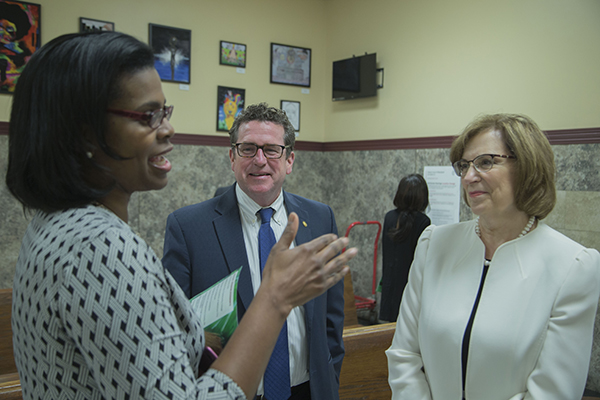 Chief Judge Barbera said she was inspired seeing the work from this year's contestants and from years past. "Baltimore is my hometown," Chief Judge Barbera said. "I am proud that the art of talented local students is being displayed in a Baltimore courthouse. Art reaches people on an emotional level. In a courthouse, art may serve to calm, soothe, or inspire. We are grateful to these young artists for allowing us to display their creations."
Chief Judge Morrissey guessed the winner as soon as he saw it on display. "I believe that art is a reflection of the human spirit and embodies creativity, innovation, and triumph," Chief Judge Morrissey said. "It is in honor of this spirit that both the court and the community are so very proud to support the young artists that participated in the Courting Art project."
 "Personally, I continue to help with Courting Art because of its multifaceted and very beneficial goals," said Brian Katzenberg, who co-chairs the event with Carrie Williams for the Bar Association of Baltimore City (BABC). "Inviting students and families into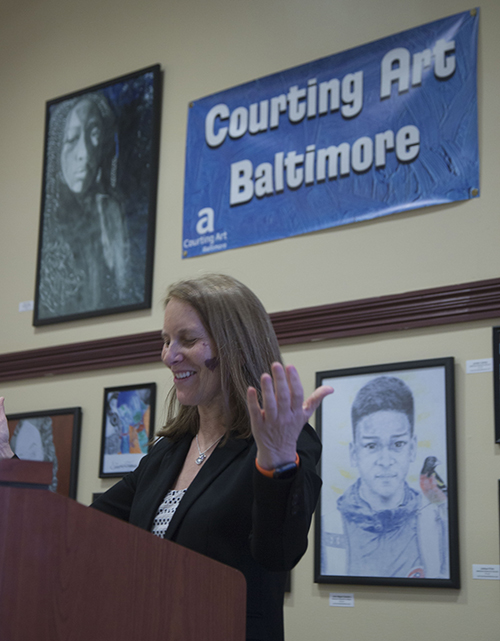 the courthouse for a celebratory event is critical for improved relations between the court, the Bar and the community. Additionally, supporting and showcasing our local students' artistic talents brings people together and promotes a more civil and engaged society."
The Frederick Douglass High School Jazz ensemble provided the music for the event and students from the Mergenthaler Vocational-Technical High School Culinary Arts program catered the desert table.
Courting Art Baltimore, established in 2015, is an art contest open to all Baltimore City public high school students. Presented by the District Court in Baltimore City in conjunction with the Baltimore Bar Foundation, Inc., and the BABC, Courting Art Baltimore is celebrated in partnership with Baltimore City Community College, Baltimore City Public Schools, Arts Every Day, the Maryland Institute College of Art and the CollegeBound Foundation.
The five scholarship winners were:
Julio Miguel Alumbro, Baltimore Polytechnic Institute, $7,500 and MICA Summer Pre-College program scholarship
Brandon Armstrong, Mergenthaler Vocational Technical High School, $5,000 and MICA Summer Pre-College program scholarship
Ula Holland, Baltimore Polytechnic Institute, $3,500
Elian Saul Pichilla Lemus, Reginald F. Lewis School of Business and Law, $2,500
Deandre Berry, Career Academy High School, $1,500
# # #
(May 18, 2018)
More photos