Government Relations and Public Affairs
580 Taylor Avenue
Annapolis, Maryland 21401
410-260-1488
Attorney Grievance Commission names new chair of Peer Review Committee
The Attorney Grievance Commission has appointed Deborah L. Potter, Esq., as chair of the Peer Review Committee. The appointment was effective July 1.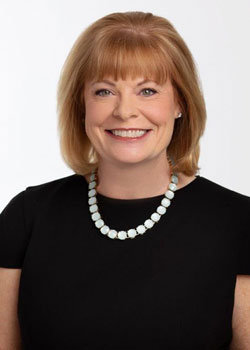 Potter succeeds Harry K. Wolpoff, Esq., who served as the committee chair since the inception of the Peer Review Committee in 2001. Wofpoff passed away in March. He served as a volunteer member and chair of the former Inquiry Panel and Peer Review Committee for more than 30 years.
The Attorney Grievance Commission oversees the conduct of both Maryland attorneys and nonmembers of the Maryland Bar who engage in the practice of law in the State. The Office of Bar Counsel investigates and prosecutes attorneys for professional misconduct. The commission is dedicated to protecting the public and maintaining the integrity of the legal profession. Through the Office of Bar Counsel, the commission seeks to encourage and promote the ethical practice of law and the highest standards of professionalism by members of the Bar.
Potter is managing partner at Potter Burnett Law in Bowie. As chair of the Peer Review Committee, Potter heads a committee of attorney and public members, who in panel format, review certain complaints that are submitted to the commission concerning attorneys who practice law in Maryland.  The purpose of the Peer Review Committee is to have a panel of peers evaluate complaints and make a determination as to whether there is a substantial basis that the attorney committed professional misconduct or is incapacitated. It also makes a recommendation to the commission on disciplinary or non-disciplinary action, if warranted.
After graduating from University of Maryland Law School in 1990 with honors, Potter became active in a variety of legal organizations. She has served the Maryland State Bar Association in several capacities during her career, and currently is secretary of the MSBA. She is a past president of the Anne Arundel County Bar Association, and has served on the boards of MyLaw, Maryland Association for Justice, Prince George's County Bar Association, and CASA. She has also served on the board of trustees as well as the executive committee of the University of Maryland College Park Foundation, and was the first female president of the University of Maryland Terrapin Club. This year, Potter was inducted into the College of Trial Lawyers and received the Trial Lawyer of the Year from Maryland Association for Justice. This year, the Daily Record named her as a Leader in the Law, and she has twice been honored by the Daily Record as one of Maryland's Top 100 Women. Potter served on Judiciary's Rules Committee for 10 years, and was a member of the Professionalism Committee.
(07/17/2018)