Government Relations and Public Affairs
580 Taylor Avenue
Annapolis, Maryland 21401
410-260-1488
Howard County receives approval for new circuit courthouse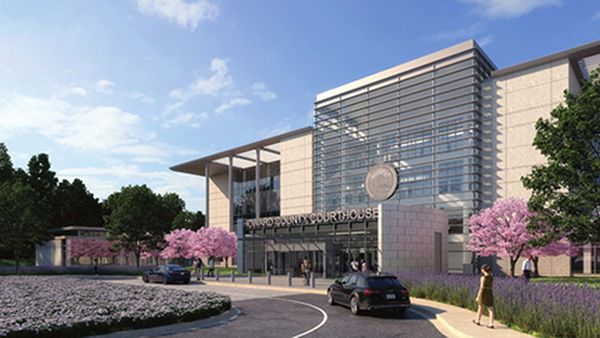 The Howard County Council has approved a public-private partnership to build a new circuit courthouse along Judiciary Way in Ellicott City.
The new facility will be built on the site of the current Thomas Dorsey Building, which is scheduled to be demolished in June 2019.
"The existing courthouse is 175 years old and, though historic, is no longer able to support the infrastructure necessary to serve the needs of the residents of Howard County," said Maryland Court of Appeals Chief Judge Mary Ellen Barbera. "The new courthouse will provide greatly improved safety, security, and access for all who rely on the courts."
Construction of the new courthouse will begin in August 2019 and is scheduled to be completed in the summer of 2021.
"We are very pleased the Howard County Council has voted to approve the design, construction, and maintenance of a new circuit courthouse," said Howard County Circuit Judge Lenore R. Gelfman, County Administrative Judge. "This wouldn't be possible without support from Howard County Executive Allan Kittleman. We will now be able to better serve our community with adequate space for the court and related agencies in one facility, as well as an adjacent parking garage. Overall, the new courthouse will provide increased security and efficiency, and will enhance access to justice."
The plan submitted by Edgemoor-Star America includes a 237,000-square-foot courthouse features a four-story atrium, a large entryway providing safety screening for those entering the courthouse, and separate hallways and elevators for prisoners. The design includes office space and a courtroom for a sixth judge, a larger and more comfortable jury assembly area, and a 691-space parking garage adjacent to the courthouse.
"I am very excited that a new courthouse is on its way to becoming a reality for the citizens of Howard County," said Howard County Circuit Court Clerk Wayne A. Robey. "It will allow our land record-licensing division, which has been at a satellite location, to rejoin the main clerk's office. This will be a tremendous help to our customers."
More information about the project, as well as preliminary renderings and a conceptual computer animation of the Edgemoor Star-America proposal, can be viewed on the Howard County government website: https://www.howardcountymd.gov/howardcourthouse.
# # #
(August 9, 2018)