Government Relations and Public Affairs
580 Taylor Avenue
Annapolis, Maryland 21401
410-260-1488
Anne Arundel County teachers visit appellate courts, meet COSA judges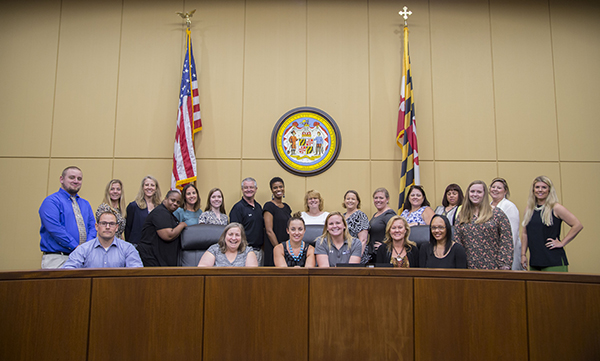 "We showed the teachers that judges have a human side…"

The Court of Special Appeals hosted a group of 20 Anne Arundel County high school teachers on June 20. The trip was part of a three-day continuing education program offered through Anne Arundel Community College's (AACC's) School of Business and Law.
"Hosting school and community groups helps us increase public awareness of the court system and judges' responsibilities," said Patrick L. Woodward, Chief Judge of the Court of Special Appeals of Maryland. "These types of activities are helpful in clearing up misconceptions about the role of the courts."
The teachers visited the Robert C. Murphy Courts of Appeal Building and met with Chief Judge Woodward, Judge Kathryn Grill Graeff and Judge Andrea M. Leahy.
"The judges' stories on how qualities, such as professionalism and good writing skills, helped them throughout their careers were great lessons that I will pass along to my students," said Heather Barnstead, a teacher at Severna Park High School.
"We showed the teachers that judges have a human side, which contributes to our ongoing efforts to make the court more accessible to the public," Chief Judge Woodward said.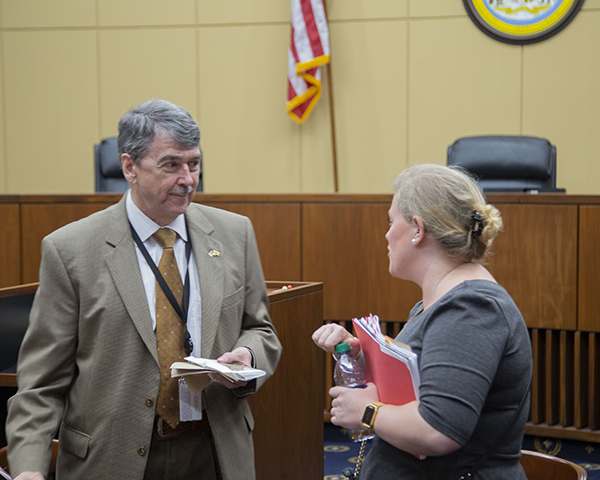 The teachers also participated in a mock oral argument based on the United States Supreme Court case of Maryland v. King. During the mock proceeding, teachers participated as judges, appellees, and appellants.
"Most of the teachers are familiar with the lower courts, so I thought it would be fun to expose them to the appellate process," said Erin Gamble, interim director and CLE coordinator of AACC's School of Business and Law's Legal Studies Institute.
Barnstead said it was an experience she will never forget. "We felt the sense of excitement and anticipation attorneys experience when they argue cases," she said.
Clerk of the Court of Special Appeals Greg Hilton also led the group on a tour of the Court of Appeals courtroom and the Maryland State Law Library.
# # #
(August 13, 2018)
More Photos