Government Relations and Public Affairs
580 Taylor Avenue
Annapolis, Maryland 21401
410-260-1488
Brownie troop meets with Montgomery County circuit court judges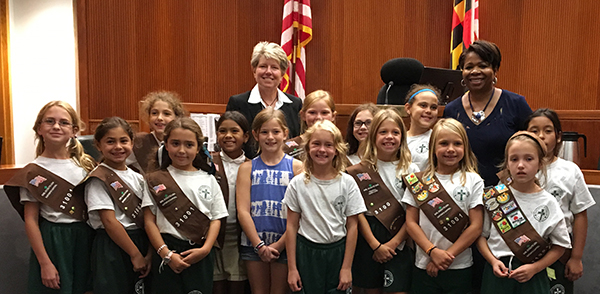 "Hopefully the girls experienced the court's diversity…"

During a recent visit to Montgomery County Circuit Court, a group of Brownie Girl Scouts learned about the judicial system and what it takes to become a judge.
Judges Jill R. Cummins and Debra L. Dwyer hosted approximately 15 third-graders from the Rockville-based Brownie Troop 31001 and their families on Sept. 20.
The judges discussed their individual career paths to the circuit court bench.
"Hopefully the girls experienced the court's diversity during the visit and saw that all judges are not older men," Judge Cummins said. "We wanted the key takeaway from the visit to be they can be anything they set their minds to."
"We thought it might be a valuable experience for the girls to see and hear from women who have achieved, through hard work and dedication, an admirable position such as a judge," said Kim Karcagi, a troop leader for Brownie Troop 31001.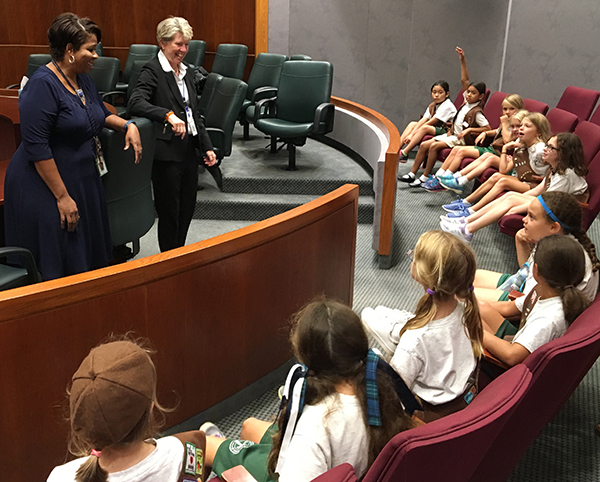 Judges Cummins and Dwyer also discussed the process of a court proceeding and fielded questions from the Brownies.
"The girls were engaged and asked thoughtful questions, which helped them gain a better understanding of what happens in court," Judge Dwyer said. "It is great to see kids at that age take an interest in the legal system."
"Following the visit, most of the girls said they were inspired to become lawyers or judges because of what they learned during their time meeting with the judges," Karcagi said.
The Brownies concluded their visit to Montgomery County Circuit Court by taking pictures behind the bench. The Brownies earned "Honest and Fair" petals, which represent values of the Girls Scout Promise and Law, for their visit.
# # #
(October 4, 2018)
More Photos