Government Relations and Public Affairs
580 Taylor Avenue
Annapolis, Maryland 21401
410-260-1488
Self-Help Center Provider Conference examines enhancing assistance for self-represented litigants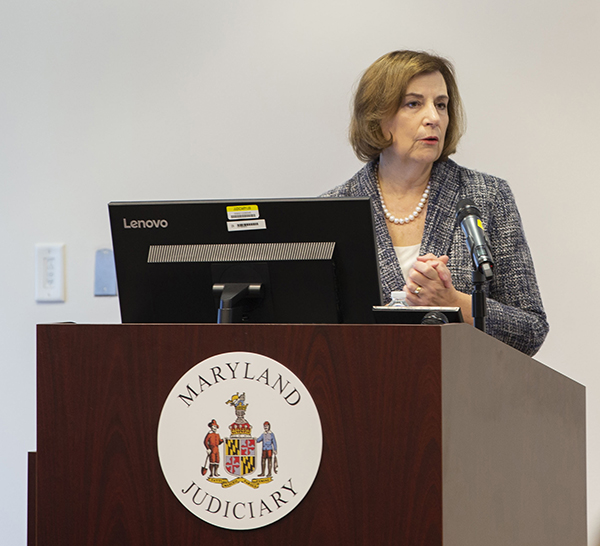 "Our goal was to give our self-help providers a place to network and exchange ideas…"

Approximately 130 representatives from the Maryland Judiciary's network of programs for self-represented litigants gathered for a Self-Help Center Provider Conference on Sept. 28 in Annapolis. The Judiciary's Access to Justice and Juvenile and Family Services departments organized the event to bring together self-help providers from across the state to learn best practices for assisting self-represented litigants.
"The attorneys and staff at self-help centers throughout the state play a vital role in assisting self-represented litigants to navigate the justice system," said Mary Ellen Barbera, Chief Judge of the Court of Appeals of Maryland. "The Judiciary's ongoing commitment to provide self-help resources has helped Maryland emerge as a leader in access to justice."
"This conference was a successful forum for self-help providers to address the demand for legal assistance in their respective areas of expertise," said Pamela Harris, State Court Administrator.
The day-long conference featured panel discussions and presentations on landlord-tenant matters, guardianship, expungement, and laws that went into effect Oct. 1. Staff, contract, and pro bono attorneys and non-attorney staff discussed methods to enhance the services they provide to self-represented litigants.

"Self-help providers fill a gap in legal services by providing litigants advice and information to help resolve cases," said John P. Morrissey, Chief Judge of the District Court of Maryland. "This event is a tribute to the hard work and dedication of the attorneys and staff who assist the public remotely by phone and live chat or in person at the walk-in centers."
"Our goal was to give our self-help providers a place to network and exchange ideas," said Lonni Kyhos Summers, Esq., senior program manager. "We also wanted to provide training, particularly on new laws that took effect on October 1, and remind providers of the many resources that the Judiciary provides to assist self-represented litigants."
This is the first time the Judiciary has hosted a self-help provider conference in the state of Maryland.
# # #
(November 1, 2018)
More Photos