Government Relations and Public Affairs
580 Taylor Avenue
Annapolis, Maryland 21401
410-260-1488
Court of Special Appeals hears arguments at University of Baltimore School of Law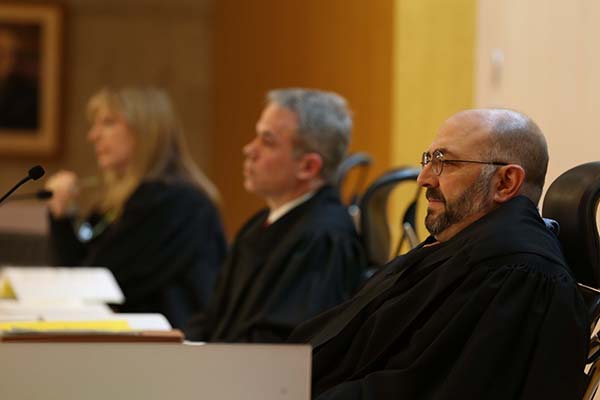 "This was the first time I had seen actual oral arguments and a sort of legal conversation."
Kathleen Donnelly
First year law student
University of Baltimore School of Law
For two days in March, appellate arguments were made in a classroom instead of a courtroom when the Court of Special Appeals convened at the University of Baltimore School of Law. For many law students, it was the first time seeing an appellate court in action.
Under Maryland law, the Court of Special Appeals sits only in Annapolis with one exception: the court's chief judge can set arguments at either of Maryland's law schools. For the last several years, the court has held oral arguments at University of Maryland Francis King Carey School of Law in the fall and at University of Baltimore School of Law in the spring.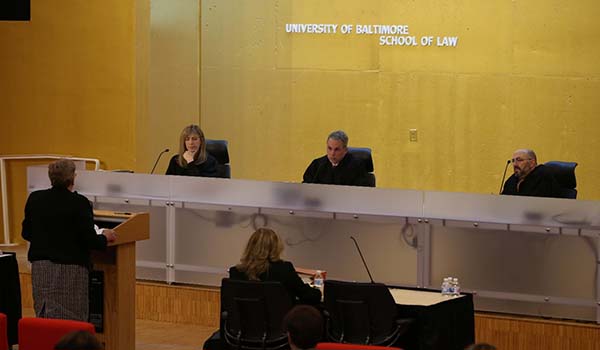 Preparations for each off-site court session begin far in advance.
"Logistically, we have to bring all of the accoutrements of court with us," said Court of Special Appeals Clerk Greg Hilton. "That includes robes, briefs, scheduling documents, and court staff. And we have to consider what cases should be argued at the law school because some cases are simply more appropriate for an educational environment than others. All in all, it takes about two to three days of preparation spread out over several months to make it happen. However, because of our close working relationship with the schools, it always comes off seemingly effortlessly."
"Hearing arguments at the law schools is a wonderful opportunity for both our judges and, hopefully, the students at the schools," Chief Judge Fader said. "For us, it is an opportunity to escape the familiar confines of our courthouse, get out into the community, and enjoy a different perspective on what we do. For the students, it is an opportunity to see how the things they are learning in the classroom translate into the realities of legal practice, as well as to pick the minds of the judges with questions about clerking, careers, and judging. It's a win-win proposition."
University of Baltimore School of Law Dean Ronald Weich agreed.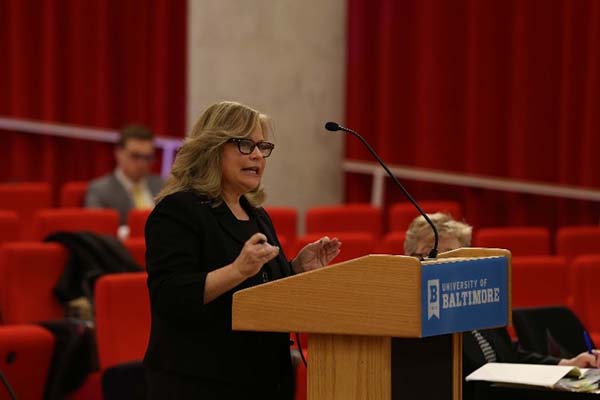 "Our students can watch real, live lawyers argue real, live cases in front of real, live judges," Dean Weich said. "We do lots of simulations in law school, mock trials, moot courts, but there is no substitution for seeing actual legal issues being resolved."
The change of venue did not faze the attorneys whose cases were chosen for the docket.
"Why wouldn't we want to participate in this?" said attorney Lisa Sansone, who estimates she has argued in Maryland's appellate courts almost 100 times. "I think it's really important for students to see justice in action and see what the interactions are between the litigants and the court. And also, I think lawyers have an obligation to teach as well and let the students know what to expect from being in court, being in front of the Court of Special Appeals. I loved it."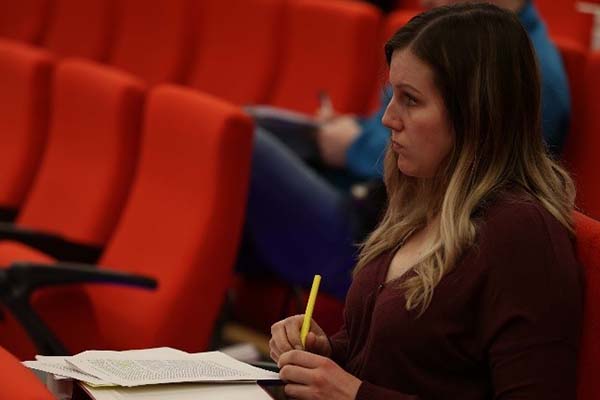 Some observers, like first-year law student Kathleen Donnelly, gained some confidence from watching arguments. "This was the first time I had seen actual oral arguments and a sort of legal conversation," Donnelly said. "I tried to watch the attorneys' demeanor and see how they responded to questions, how they interacted with the judges, and, sort of, the decorum of the whole situation. Seeing the whole process, seeing how the interactions go, made me feel a little more comfortable about going up to a podium and potentially trying to do the same thing. It was great to see it play out and get comfortable with the format."
The day provided unique opportunities for law students, Judge Leahy said.
"The advantage of attending these arguments, rather than, for example, streaming them online, is that students can truly appreciate the passion of the advocacy," Judge Leahy said. "And they have an opportunity to ask judges questions and get tips that may help them advance their own career goals."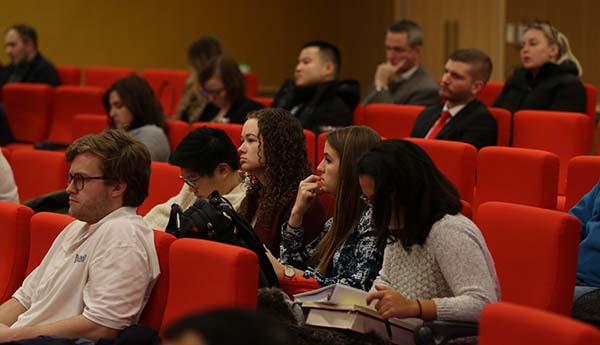 After arguments, when asked to provide advice to law students, the judges made practical suggestions. "Prepare, prepare, prepare," Judge Leahy said. Chief Judge Fader agreed, and then added his own advice. "Be open to different experiences," he said. "The practice of law is an incredibly varied practice. Keep an open mind while you are in school, try to have different experiences while you are in school and over the summer."
Judge Friedman drew a chuckle from students when he told them, "The multiple-choice final is not your friend." He explained, "I guess the one thing I would say to you, the best advice, is to take every opportunity you can to write. To write often, carefully, listen to people who give you edits and take them seriously, and then write some more. Because I think the fundamental thing that links successful lawyers together is writing."
# # #
(March 25, 2019)