Government Relations and Public Affairs
187 Harry S. Truman Parkway
Annapolis, Maryland 21401
410-260-1488
Maryland Judiciary shares stories of success amid COVID-19
in honor of National Drug Court Month | Week 2
The novel coronavirus, COVID-19, pandemic is proving to be one of, if not the most, challenging and unprecedented events in the history of the Maryland Judiciary. Judiciary leadership, judges, and court staff are working tirelessly to maintain essential daily operations amid the global pandemic.
The Maryland Judiciary's Problem-Solving Courts are paving the way in finding new innovative ways to connect, assist, and support current participants in the Judiciary's substance abuse, mental health, and veteran's treatment programs.
Experts say participants may be triggered by the anxiety, uncertainty, and stress brought on by the challenges in facing a global pandemic and as a result, those individuals are more susceptible to potential relapse.
Judges and problem-solving court staff are at the forefront when it comes to leading the courts in finding new ways of using technology to facilitate their dockets and manage treatment courts during these critical and trying times.
Every year, the National Association of Drug Court Professionals (NADCP) recognizes the month of May as National Drug Court Month. Due to COVID-19, the Judiciary is joining NADCP in acknowledging this month by featuring the many recent success stories from various treatment courts throughout Maryland. Each week, the Judiciary will highlight two programs by sharing their stories of success during the COVID-19 crisis.
Harford County District Court Mental Health Diversion Program
"During this time of uncertainty, the Mental Health Diversion Program team recognizes the importance of supporting our participants..."
BEL AIR, Md. – The District Court in Harford County's Mental Health Diversion Program is creating new incentives to keep its participants on track during the COVID-19 public health emergency.
Judge Mimi Cooper presides over the mental health docket and is changing the way the program operates by increasing the frequency of calls they make to check-in with participants.
"We now hold biweekly Skype calls with the participants and take the time to highlight the progress each has made towards achieving their program goals," she said.
Judge Cooper said some of her court program participants were concerned that they would not be able to meet in-person during their regularly scheduled meetings until the COVID-19 health emergency subsided. In an effort to encourage program participants to attend remote check-ins and meetings, Judge Cooper and her team created program incentives to boost morale during the pandemic.
"We rewarded a participant with a $10.00 Subway gift card for their outstanding attendance at all scheduled telehealth appointments," she said. "During this time of uncertainty, the Mental Health Diversion Program team recognizes the importance of supporting our participants and acknowledging the efforts they make to navigate and overcome the barriers they face every day."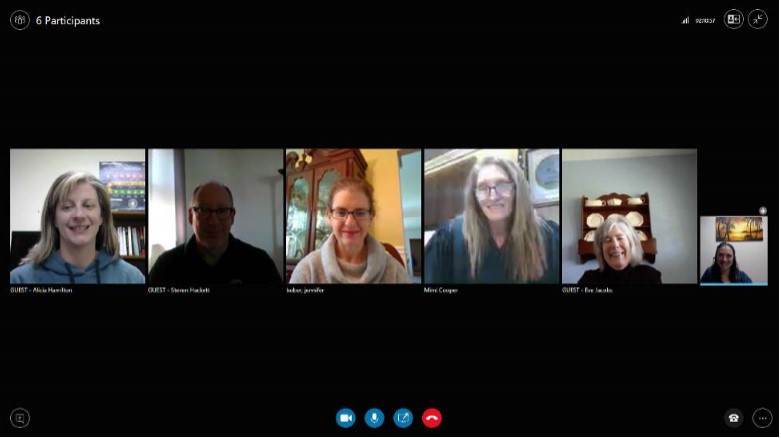 Montgomery County District Court Mental Health Court holds virtual graduation
"The virtual graduation was an uplifting experience…"
ROCKVILLE, Md. - The Montgomery County District Court Mental Health Court (MHC) team is not letting the COVID-19 pandemic slow the success of the program's participants. Dedicated staff members, which include case managers, clinical team leaders, and various providers, are working together to keep participants on track for graduation through telehealth weekly check-ins that are taking place via phone, text, and email.
Leading the mental health program are Montgomery County District Court Judges Marina L. Sabett and Aileen E. Oliver. Both judges preside over the docket on a rotating basis.
Each year, MHC holds two graduations for participants, which take place during the months of April and October. Despite COVID-19, on April 16, MHC allowed participants, who have successfully completed the program, to graduate by holding a virtual graduation event.
"The virtual graduation was an uplifting experience for both the participants and the MHC team," said Judge Sabett. "It not only highlighted the ability of the participants and the team to adapt and achieve some sense of normalcy in these unusual times, but it also allowed for human connection, which is so important for our participants, and us all."
Program leaders said seven participants graduated in April.
"It is that type of connection and structure that allows us to maintain the efficacy of our program, even in these socially distant times," she said.
Additionally, MHC coordinator, Maxine Curtis, is now accustomed to mailing important program information, and even birthday cards, to participants at their home addresses since these items cannot be handed off inside the courthouse.
"All of these program initiatives were done in court before COVID-19 and now, they are received at home, which for some, is a real treat for participants," said Judge Sabett. "We are learning many lessons from this experience and intend to restructure how we conduct our MHC hearings when we get back to in-person court operations."
The next MHC graduation is scheduled for October 15, 2020. Right now, it is too early to determine if it will be held in person or virtually.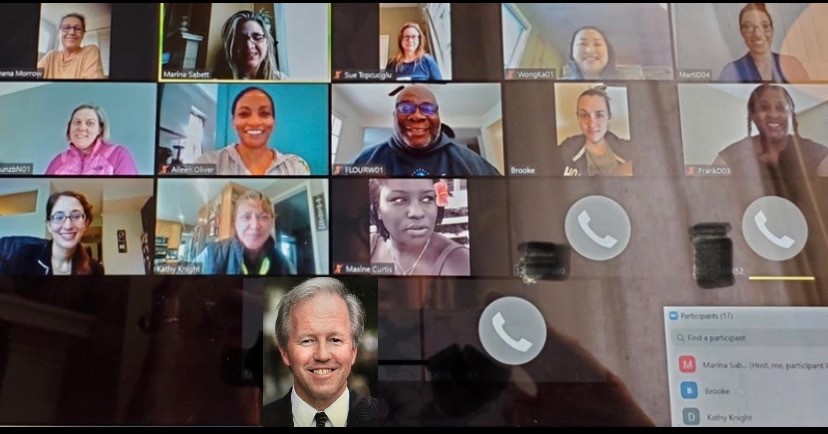 # # #
(May 14, 2020)