Government Relations and Public Affairs
187 Harry S. Truman Parkway
Annapolis, Maryland 21401
410-260-1488
Students from EXCEL Academy Public Charter School learn about the path to becoming a judge at virtual career day
"Participating in virtual career day events has been a fun and welcomed distraction during this time of uncertainty. These young students are resilient and I enjoyed their thoughtful questions."
LANDOVER, Md. – The EXCEL Academy Public Charter School in Prince George's County, like many other schools throughout Maryland, have worked hard to keep students engaged during statewide school closures due to the COVID-19 pandemic. One event that the EXCEL Academy's students look forward to every year is its annual career day, which had to be reimagined in 2020 with social distancing guidelines in mind.
Judge Lisa Hall Johnson, administrative judge for the District Court in Prince George's County, helped make the school's virtual career day a success by bringing her passion for the law and youth together remotely.
"I really enjoy school events," said Judge Hall Johnson. "Participating in virtual career day events has been a fun and welcomed distraction during this time of uncertainty. These young students are resilient and I enjoyed their thoughtful questions."
From her chambers, Judge Hall Johnson spoke to students about her legal career and how she became a District Court judge for the Maryland Judiciary. The students were excited to have a judge as part of the virtual career day presentations and asked Judge Hall Johnson many follow-up questions about her experiences and the steps she took to prepare for her career path.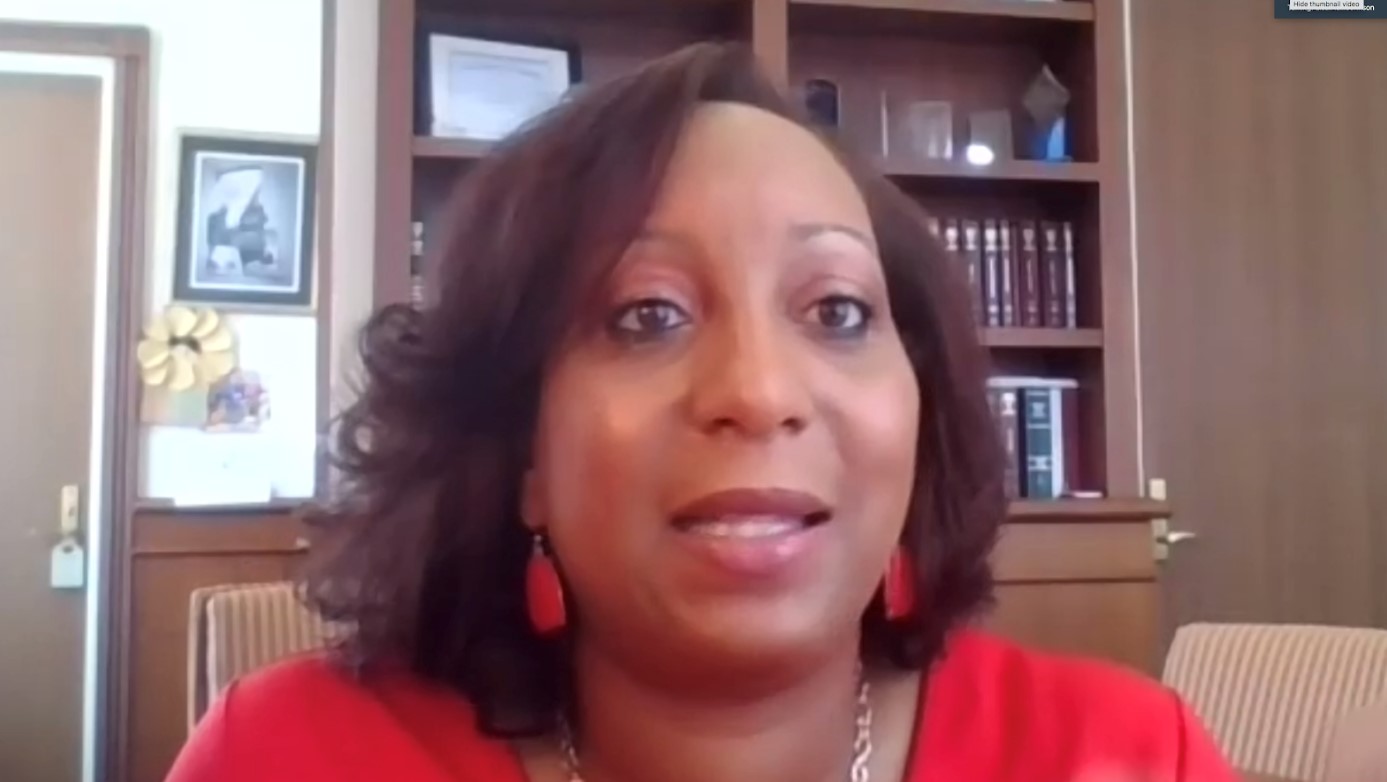 "The students were eager, polite, enthusiastic, and intelligent," Judge Hall Johnson said. "I promised them that when it is safe, I will come visit and bring some of my 'judge friends,' as they called them. I encourage anyone who is asked to participate in these types of events to make the time. It was a rewarding experience and I hope to continue to do this very important work."
Judge Hall Johnson has made it her mission to give back to local youth by sharing her experiences with them. Throughout her career, she has participated in many school and community-based events, making herself accessible to students. Although COVID-19 has changed the ability to have in-person school visits, Judge Hall Johnson continues to stay connected to students at various local schools via virtual platforms. She also recently participated in virtual career fairs at the National Cathedral School in Washington, D.C., and Tulip Grove Elementary School in Bowie.
The career day is part of EXCEL Academy's college and career preparatory program and is foundational to each student's development plan. EXCEL Academy's first virtual career day was a half-day program and featured professionals from various industries, including information technology, culinary arts, medicine and healthcare, fine arts, non-profit organizations, performing arts, veterinary science, beauty, wellness, vocational professions, and entertainment.
"We were so very pleased to have Judge Hall Johnson take time out of her busy schedule to participate in our virtual career day," said EXCEL Academy Principal LaTanya S. Sothern. "She truly has a heart for children and our scholars were intrigued by the nature of her job, as well as her warm demeanor. She even extended an invitation to visit her chambers for a field trip and we are looking forward to making that happen when it is deemed safe to do so."
As administrative judge, Judge Hall Johnson ensures that the courthouse remains accessible to students and community groups interested in learning about the Maryland judicial system and careers in the legal profession. Many of her judicial colleagues in Prince George's County are also actively involved in programs with students. From inviting students to the District Court in Prince George's County to speaking at local schools, Judge Hall Johnson is passionate about engaging students to plan for their future careers and success in life.
# # #
(July 7, 2020)