Government Relations and Public Affairs
187 Harry S. Truman Parkway
Annapolis, Maryland 21401
410-260-1488
Law Day 2020 becomes a virtual learning experience for students in Frederick County
"Law Day remains an incredibly important event to the Frederick County court staff and judges."
FREDERICK, Md. – The impact of the COVID-19 pandemic has affected Maryland's courts, school systems, and local communities. Judge Dino Flores, administrative judge of District 11 (Frederick and Washington counties), has reimagined the celebration of Law Day by turning it into a virtual learning experience for local students.
Each year, the District Court in Frederick County and the Circuit Court for Frederick County team up to celebrate Law Day, which is held annually on May 1, by inviting and welcoming students to meet court staff and watch court proceedings.
Due to COVID-19 and the mandated social distancing guidelines, Judge Flores wrote to Frederick County Public Schools to explore new ways of making Law Day into a virtual learning experience for students and that's when the idea of creating a special video message for students came to mind.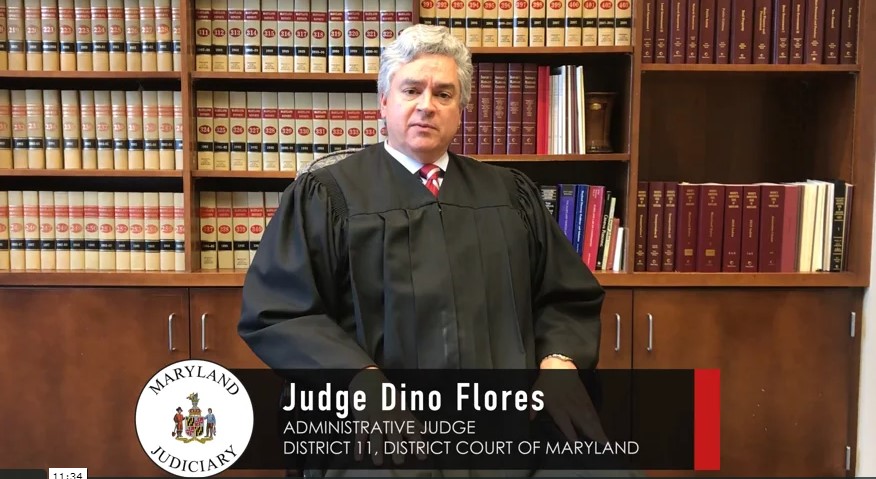 "Law Day remains an incredibly important event to the Frederick County court staff and judges," said Judge Flores. "This event is one of our favorite ways to celebrate our adolescents' interest in the fields of criminal justice and law."
Social studies teachers in secondary schools across Frederick County submitted questions to Judge Flores to answer in his video message. Judge Flores then released his responses in May in honor of Law Day to 174 social studies teachers who teach grades six to 12 within the Frederick County Public School system.
Amid COVID-19, Judge Flores explained how courts are continuing to deliver justice through technology and hold emergency hearings on limited matters in the District Court of Maryland. These emergency hearings include domestic violence protection petitions, mental health evaluations, extreme risk protective orders, and bond hearings.
"For the first time in history, attorneys and witnesses are permitted to appear before court remotely," said Judge Flores. "During these times, we must continue to provide justice for customers involved with the courthouse."
Judge Flores added that Frederick County's Drug Treatment Court remains active and continues to hear remote dockets for those seeking treatment and services in court supervised programs throughout the COVID-19 health crisis. Judge Flores also noted that Frederick County is in the process of opening a mental health court to widen the scope of services available through Frederick County's Problem-Solving Courts.
Judge Flores explained to the students that the District Court in Frederick County is where he unfortunately meets Frederick County students after they've become involved in traffic cases as new drivers and even marijuana citations cases.
In the video, Judge Flores went on to explain the differences between being tried as an adult and a juvenile in the legal system.
"My best advice of course is to stay out of court," he said. "Stay out of trouble."
As an administrative judge, Judge Flores ensures that the courthouse is always accessible for legal education and wants the youth in Frederick County to make thoughtful decisions.
Judge Flores continues to find new ways of facilitating access to the District Court of Maryland for community members, including students of all ages, amid the COVID-19 pandemic.
# # #
To view Judge Flores' video for Law Day 2020, visit: https://vimeo.com/421109752/6425342c23.
To learn more about the gradual phased reopening of the Maryland Judiciary, visit: https://mdcourts.gov/media/news/2020/pr20200522.
(July 15, 2020)