Government Relations and Public Affairs
187 Harry S. Truman Parkway
Annapolis, Maryland 21401
410-260-1488
Wicomico County Circuit Court helps local couple to make their virtual wedding ceremony special
"Just because it's virtual doesn't mean it can't be special"
SALISBURY, Md. – Kimberly Holmes-Iverson and her fiancé, Darian Iverson, had an original wedding date planned for June 27, 2020, at her parents' home in Northern Virginia. Their plans had to change due to COVID-19.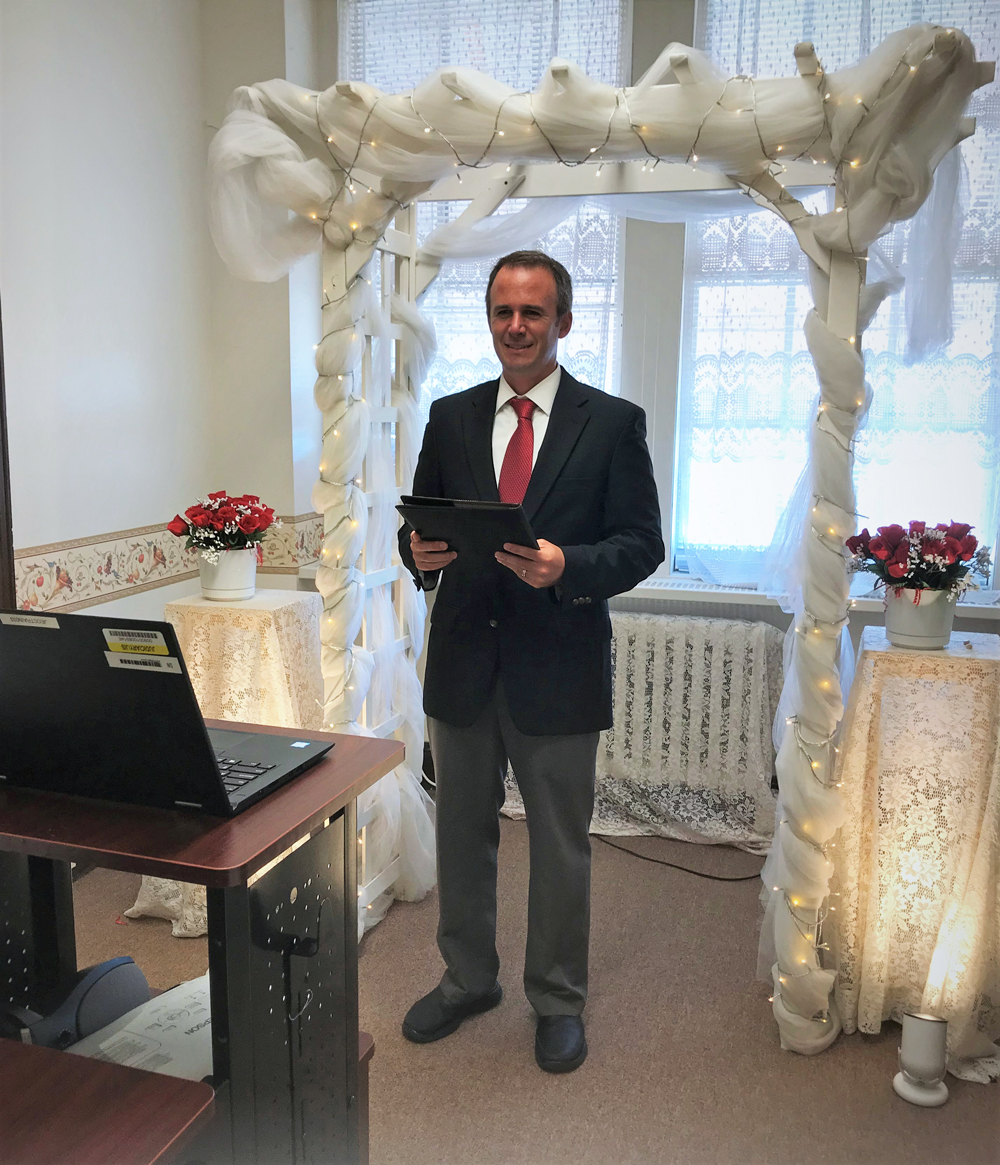 Like many couples throughout Maryland and across the country whose wedding plans were foiled as a result of the pandemic, they realized that a live, in-person ceremony with 100 guests would not be possible this year.
"It became apparent early on that finding a way to allow people to move forward with their plans to marry was important," said Judge S. James Sarbanes, Administrative Judge, Circuit Court for Wicomico County. "In a time that has been full of uncertainty, anxiety, and loss, I'm proud that we were able and willing to innovate to bring joy to couples starting their lives together."
When Holmes-Iverson learned that Maryland's circuit courthouses were providing remote marriage license services, she realized that moving forward with her wedding plans, however altered, was still possible.
"I kept that in the back of my mind, and we started considering that option," said Holmes-Iverson.
Holmes-Iverson called the courthouse and worked directly with Clerk of Court James "Bo" McAllister, Wicomico County Circuit Court, to obtain the marriage license remotely and learn about options for a civil ceremony.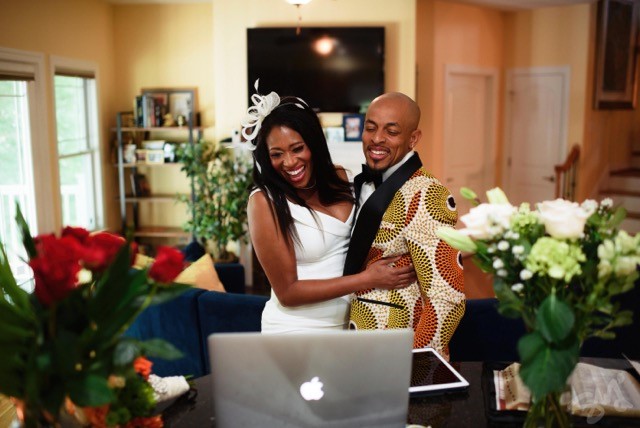 "During the pandemic, our office has been meeting with marriage license applicants via videoconference to review their applications under oath, confirm identity, and arrange payment," said McAllister. "We also discuss their options for wedding ceremonies, which includes having our office perform the ceremony via videoconference."
Holmes-Iverson and her fiancé applied for a marriage license, then scheduled and personalized their virtual civil marriage ceremony for June 19. The new date of the couple's wedding ceremony was extra special to them because it was held on Juneteenth, also called Emancipation Day, which is an annual holiday observed and celebrated to commemorate the emancipation of enslaved people in the United States.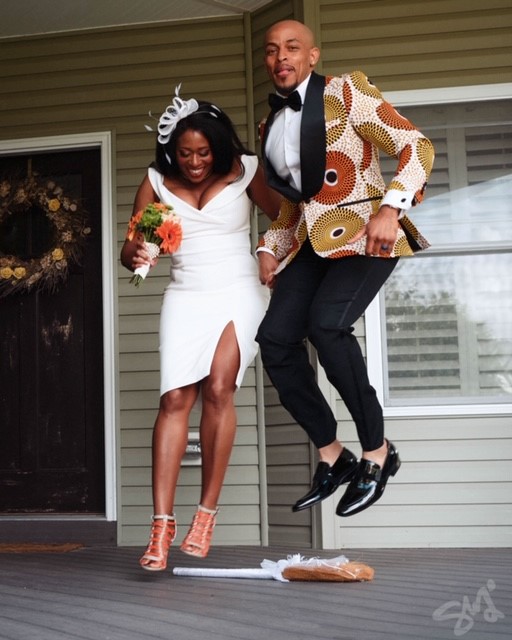 "The process was super simple. I emailed the courthouse, they sent me the form," said Holmes-Iverson. "I retuned it the next day and we agreed upon the date. I then had a virtual consultation with the clerk. We set up the details for the online 'meeting' and sent the link to friends and family. I was very surprised by how easy it was and how seamless the process flowed," said Holmes-Iverson.
Clerk McAllister officiated the couple's wedding for a live virtual audience of 93 people via Zoom for Government. When the couple was ready to "go live," they unmuted their microphones and revealed the camera to allow guests to enter the wedding.
The wedding ceremony lasted 40 minutes and the couple wrote their own vows.
"When performing the ceremony, we take great care to station the camera in our wedding room with the archway, lights, and flowers in the background," said McAllister. "We do what we can to help make their day special. It was an honor to participate in the ceremony. The vows of the bride and groom were beautiful and full of emotion. I am very happy that these two have found each other."
"I appreciated Bo McAllister's patience," said Holmes-Iverson. "Our vows definitely extended the normally short service to nearly 40 minutes, but I know he felt the emotion and rolled with us. It was just beautiful," said Holmes-Iverson.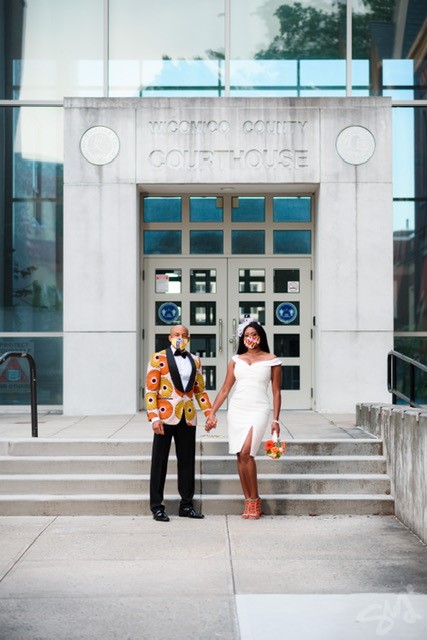 As part of the ceremony, Holmes-Iverson and her husband also "jumped the broom," a ritual in African-American culture that originated in the 1800's when enslaved people were not permitted to legally marry.
"Just because it's virtual doesn't mean it can't be special," said Holmes-Iverson. "We still 'jumped the broom,' which is a big wedding tradition in the Black community. We asked Bo ahead of time if he would be okay with us adding that to the ceremony."
For more information on how to apply for a marriage license, contact the circuit court clerk's office in the jurisdiction where the marriage will take place.
Visit mdcourts.gov to download the Marriage License Application and Marriage License Application Instructions.
Clerks' offices statewide will continue offering remote marriage licenses as an option until the COVID-19 State of Emergency is lifted and the proclamation of the health emergency is rescinded, superseded, amended, or revised by additional orders.
*Kimberly Holmes-Iverson is a morning news anchor at WBOC-TV in Salisbury.
# # #
(July 29, 2020)