Office of Communications and Public Affairs
2001-E/F Commerce Park Drive
Annapolis, Maryland 21401
410-260-1488
Anne Arundel County District Court recognized the accomplishments of its 20th class of Adult Drug and DUI Treatment Court graduates on Thursday, May 11, with a ceremony in Annapolis.  The graduation ceremony marked a new beginning for eight participants who celebrated completing the program with family members and friends during the event.  Anne Arundel County District Judge Thomas J. Pryal presided over the ceremony.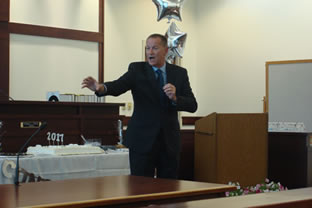 (Baltimore sportscaster Keith Mills served as the keynote speaker for the event.)

"Prior to participating in the program, I felt alone, but over the last year-plus, the court staff, my case manager, and family have been very supportive of my efforts, and that support has made a difference in my life," said Valerie Embleton, an Adult Drug and DUI Treatment Court graduate.

"The journey this group of graduates has endured prior to and during the program is truly remarkable," said Judge Pryal.  "It is great to see how they have turned their lives around with a little help from us, but more so because of their own hard work."

Anne Arundel County District Court's rigorous drug and DUI (alcohol) treatment court program, which combines judicial oversight with intensive treatment and supervision, was established in 1997, and the program for DUI infractions was added in 2005.  More than 1,000 people have successfully completed the Anne Arundel County District Court program since it began, with 75 percent remaining arrest-free.

"The participants who have completed program have received a second chance to take control of their lives and now have the tools necessary to thrive as productive members of their communities," said WBAL-TV Sports Anchor and Reporter Keith Mills, who served as the graduation's keynote speaker.

Maryland has 35 drug treatment courts, consisting of adult, family, recovery and DUI courts.  They are part of the Judiciary's network of problem-solving courts, which respond to the underlying problems that bring people into court, such as drug or alcohol addiction, mental illness, and/or family or personal issues.  Drug treatment court programs are one way the Judiciary upholds its commitment to "be responsive and adaptable to changing community needs," a stated goal in the Strategic Plan for the Maryland Judiciary.

Follow the Maryland Judiciary on Twitter.

 

 

 

 

# # #