NOTICE:
Due to a critical case management system update, Case Search will be unavailable for MDEC counties beginning Friday, May 21, 2021 at 5:30 p.m. until Saturday, May 22, 2021, at 6 pm. Case details will be available for Baltimore City, Montgomery County and Prince George's County, however, there may be intermittent outages affecting access to data in these counties.
Pursuant to House Bill 1336 of the regular session, expungements are expanded to include 4th degree burglary offenses. Additionally, criminal/traffic charges where the disposition is acquitted, dismissed, nolle prosequi, or not guilty will be automatically suppressed from Maryland Case Search. If all charges on a case qualify, the entire case will be suppressed. If a case contains non-qualifying charges, those charges will be displayed. Missing charge numbers are deliberate and reflect the charge removal(s) of some of the charges on a case. Case updates have begun and will be completed by May 15, 2021.
Example: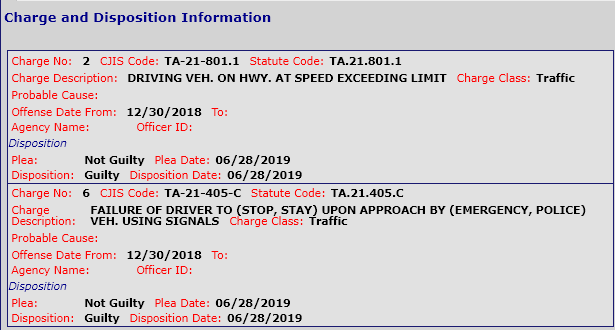 Notice: As a result of House Bill 83 and Senate Bill 314: 2020 Regular Session, certain criminal cases will be protected from public view beginning March 15, 2021. HB 83 prohibits the display of any District Court criminal case where marijuana is the only charge and the charge was disposed before October 1, 2014. SB 314 specifies that a case where a juvenile is charged as an adult will remain confidential until the court determines whether the case will be transferred to juvenile court.
Notice: Unit Charge Removals
Maryland Code, Criminal Procedure, Article, §10-107 defines two or more criminal or incarcerable traffic charges arising from the same incident, transaction, or set of facts as a "unit." Any charges for minor traffic violations that arise from the same incident, transaction, or set of facts are not part of the "unit."
 
If a defendant's case consists of unit charges and non-unit charges, and each unit charge is eligible for expungement, the court could order that one or all of the unit charges be expunged. If so ordered, the court must remove all relevant court records from public inspection, thereby charges may appear to be missing from the sequential list of charges assessed to a case (e.g., after removal of the unit charges, the charges may display as 1, 4, and 5). Charges missing from cases are deliberate and reflect the court's unit charge removal.
 
References:
Statute CP §10-107 and Court of Special Appeals Case No. 2182, September Term, 2018