May 2023 Bar Admissions: Congratulations to the May, 2023 Admittees to the Maryland Bar! Recordings of the ceremonies can be viewed here for approximately eight weeks.
Memorial for Judge Joseph F. Murphy, Jr.: On Thursday, June 1, 2023, the Supreme Court sat in special session in memory of Judge Joseph F. Murphy, Jr. Due to a widespread power outage, the webcast was interrupted and there is no recording. A transcript of the memorial minutes will be posted on the Special Events Archive page as soon as it is available.
Highlighted Cases: For information regarding Adnan Syed v. Young Lee, as Victim's Representative, and State of Maryland, Petition No. 81, September Term, 2023 and other recent cases of interest please visit our highlighted cases page.
Administration of the Attorney Oath: The Attorney Oath will be administered by Zoom from the Supreme Court Courtroom on Monday, June 12, 2023, at 10:00 a.m.
For more information, please refer to the March 29, 2022, Third Amended Administrative Order on Administration of the Attorney Oath.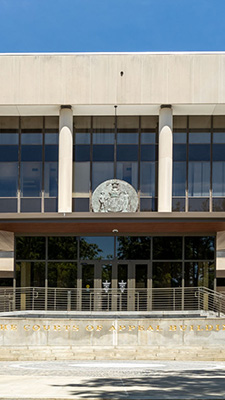 The Supreme Court of Maryland is the State of Maryland's highest court. The Supreme Court hears cases primarily by way of certiorari, a process that gives the Court discretion to hear appeals where it concludes that doing so is desirable and in the public interest. A party or parties seeking review by the Supreme Court file a "petition for writ of certiorari" asking the Court to hear specific questions presented by the case. If the Court grants a writ of certiorari, parties will then file briefs addressing the questions presented by the petition or the questions approved by the Court for review. In addition to its discretionary jurisdiction, the Court considers cases involving legislative redistricting, attorney discipline, and certified questions of law. The Court also establishes the rules of practice and procedure for cases filed in all Maryland's Courts.

The Supreme Court consists of seven Justices. Each of the seven active Justices is appointed from one of the State's seven appellate circuits. All seven Justices sit together to consider petitions for writ of certiorari and cases on the Court's regular docket.

The Supreme Court is assisted in its work by senior judges and senior justices who sit for one or more of the Justices if they are recused from cases on the Court's regular docket.

The Clerk of the Supreme Court and the Clerk's Office Staff keep the appellate record and maintain the records of the Court. All papers submitted for consideration by the Court are filed with the Clerk.