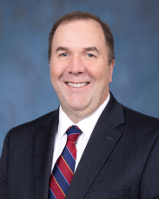 I am Gregory Hilton, and I am the Clerk of the Supreme Court of Maryland. As the clerk, I oversee the daily operations of the Clerk's Office staff and assist the Court in its work. I also serve as the State Reporter, and along with a specialist staff, we comprise the Office of the State Reporter.
OFFICE OF THE CLERK

The Clerk's Office is the public office of the Court and its primary mission is to support the Court's judicial functions by maintaining and managing dockets; receiving and processing briefs, petitions, records and other papers; and maintaining the permanent records of appeals. In addition to appeals, the Office also handles the admission of new attorneys to the Bar of Maryland as well as attorney disciplinary matters. The Office is the repository of the Statutory Laws of the General Assembly of Maryland. Information about making a judicial records request can be found here.

It is the mission of the Clerk's Office to serve the Court and the public with efficiency, courtesy, respect, and a spirit of public service.

Filings and questions related to cases should be directed to the Clerk's Office during business hours. The Office is open from 8:30 a.m. to 4:30 p.m. except on weekends and holidays. The Office is located on the fourth floor of the Robert C. Murphy Courts of Appeal Building in Annapolis, Maryland. You may also call the Office with questions at 410-260-1500.
OFFICE OF THE STATE REPORTER

This office publishes all of the decisions of the Supreme Court and the Appellate Court that they designate for publication. The Office edits, corrects and publishes the reported decisions of the two appellate courts in bound volumes, the Maryland Reports for the Supreme Court of Maryland and the Maryland Appellate Reports for the Appellate Court of Maryland, and distributes those bound volumes to the judges throughout the State of Maryland.

The published opinions, along with unpublished decisions are also posted to the appellate courts' webpages. They can be found on these webpages: Opinions-Reported and Opinions-Unreported. Monthly, the Office of the State Reporter publishes an online newsletter called Amicus Curiarum that abstracts the published opinions of both appellate courts and provides other information about the courts' proceedings. The Office of the State Reporter manages the Supreme Court's webpages which include information about the Court, pending and past cases, and webcasts of the Supreme Court's oral arguments and other proceedings, including bar admissions, memorial sessions, and meetings related to the adoption of changes to the Maryland Rules.

To contact the Office of the State Reporter, please call 410-260-1501 or email statereporter@mdcourts.gov.
Supreme Court of Maryland
Robert C. Murphy Courts of Appeal Building
361 Rowe Boulevard
Annapolis, MD 21401
Phone: 410-260-1500