Description
The solutions of CONNECT focus on providing automated approaches to our manual, paper-based processes and custom made systems. With the implementation of a standard system, called PeopleSoft, CONNECT will leverage the built-in processes that are based upon human resources best practices. The Judiciary will be transitioning to a single system that is scalable and upgradable.

CONNECT will change this! It will deliver a complete end-to-end, integrated HR system. All of the Judiciary will use the same system, perform the same processes, and adhere to the same application of HR policies. This will enhance the Judiciary employees' experience with completing HR processes, and enable the timeliness, accuracy and reliability of reporting through centralized data management.
By transitioning to a single system that is scalable and upgradable, CONNECT will deliver many benefits to the Judiciary and its staff.
Reduce cost of delivering Human Resource services to Judiciary
Provide centralized data management
Reduce administrative redundancies
Streamline processes
Provide HR functions the visibility and ownership of real-time data
Provide employee self-service functionality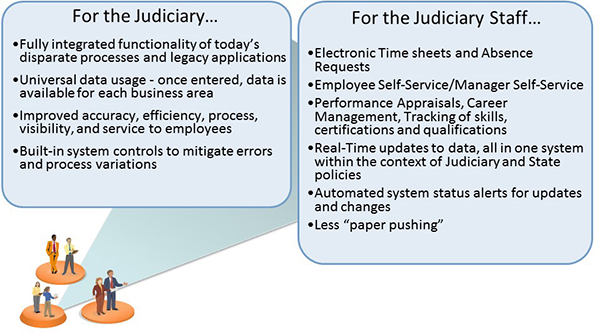 As we continue to add valuable information and materials, this site will serve as your one-stop-shop for all things CONNECT. Be sure to check back frequently for updated information, including the new HR Newsletter – The HR CONNECTion, previously delivered presentations, Frequently Asked Questions, details about key changes, important milestones and timelines, and much more.
You can also reach out to the CONNECT Project Team any time via email at connect@mdcourts.gov.