Limited access to Robert C. Murphy Courts of Appeal Building due to new construction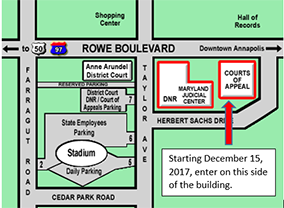 New construction is expected to begin on Friday, December 15, 2017, in front of the main entrance to the Robert C. Murphy Courts of Appeal Building.

Due to the construction, access to the Court of Appeals, the Court of Special Appeals, and the State Law Library will be limited to the side entrance of the building. All persons doing business with the courts or the library should use the walking tunnel in the construction area to get to the side entrance. This will be the only point of entry to the building.

Signage will be placed in the construction zone to direct people where to enter the building.
We apologize for any inconvenience.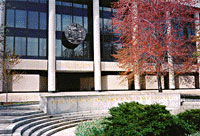 The Court of Special Appeals is Maryland's intermediate appellate court. Created in 1966, unless otherwise provided by law, it considers any reviewable judgment, decree, order, or other action of the circuit and orphans' courts. Judges sitting on the Court of Special Appeals generally hear and decide cases in panels of three. In some instances, however, all 15 judges sit en banc to hear the case.